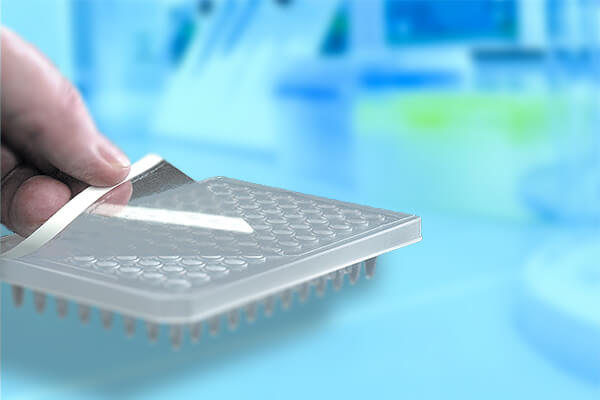 PCR and microplate sealing films are used to cover and seal the top of PCR plates and other microplates (i.e. deep-well plates, etc). which contain your reactions and samples. These sealing films serve multiple functions: provide a closure for the samples for short term or long term storage purposes, prevent contamination and evaporation of the reaction mixture during PCR and quantitative PCR (qPCR) amplification.
Generally, PCR sealing films are marketed as having special dimensions to fit the different plate formats of various types of PCR plates. However, we have simplified each of our sealing films to have a universal dimension to fit any PCR plate, microplate, or deep well plate because the surface area that needs to be sealed is generally the same for all these plates, given that the pitch between the wells is generally the same (i.e. 9mm). Any variation in our sealing film dimensions from film to film is due to finding a balance between the material qualities of the film, adhesive, liner and perforations rather than the PCR plate. Therefore, NovasBio offers a universal cut on our films, to reduce the amount of confusion and avoid superfluous options of the same film in different dimensions.
Sealing films are typically made of a thin, transparent polyester material. However, films can also be made of other polymers, as well as aluminum foils. Depending on the material the films can be compatible with the thermal cycling conditions of PCR, the optical reading needs of real-time qPCR, or simply transportation and/or long-term storage.
To use a sealing film, the film is placed over the top of the microplate or PCR plate and pressed down firmly to ensure a tight seal. We recommend using a rubber roller to ensure a very secure seal with the circumference of each well. The sealing film may be pierceable with a pipette tip or needle to allow access to the plate contents for addition of reagents or sample. If used for PCR, once the PCR reaction is complete, the sealing film is removed and the PCR plate can be analyzed. If used for real-time or quantitative PCR (qPCR), our sealing films have superb optical clarity in order to allow fluorescence to pass through the film and be detected by the optical channels of the qPCR instrument.
Universal cut to fit a variety of plate styles including flat-top non-skirted, half-skirted, semi-skirted, and raised rim

Films for real-time qPCR, standard PCR, storage (long-term or short term)

Perforated for easy application, allowing the film layer to be easily peeled from the adhesive layer

Resistant to a wide range of temperatures

Septa Mat for ABI multi-capillary sequencing instruments