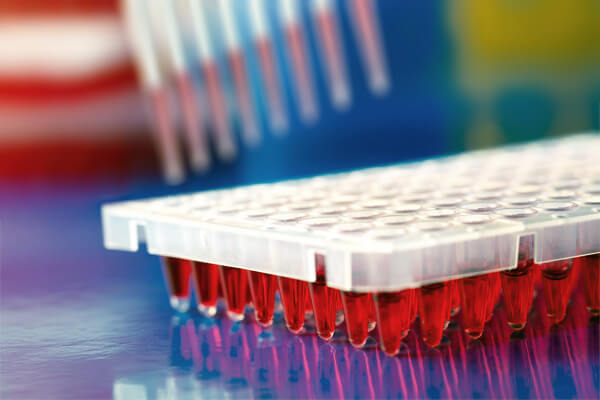 Invented in 1985, PCR has been the breakthrough technique used to amplify DNA samples, allowing researchers to create millions of copies of a specific DNA fragments. Several components go into performing PCR, namely, the PCR instrument, reagents containing the building blocks of DNA, the DNA sample, and finally the PCR consumables. The PCR consumables are the vessels, made generally of polypropylene, that hold the reagents and DNA sample and where all the magic will happen. At the end of PCR it is these vessels that will hold the amplified DNA.
Novas Bio specializes in these PCR consumables. There are several different formats of plastic consumables for PCR (polymerase chain reaction) and quantitative real-time PCR (qPCR). The wells of all our PCR tubes, whether an individual tube or a plate format, are made from medical-grade polypropylene. Our hard-shell plates deviate from polypropylene in that the frame of those plates is made of a polycarbonate material to allow for rigidity and minimize plate warpage during PCR thermocycling. The wells where the heat transfer is occurring are still made of polypropylene.
Our PCR plastic consumables are designed and molded with strict tolerances for wall thickness to allow for optimal heat transfer, consistency, and repeatability in PCR amplification and analysis. Each production lot is certified to be free of DNA, RNA, Human DNA, and Pyrogens.
We offer the following formats for your PCR and qPCR:
PCR tubes: These are individual PCR tubes that hold the reaction mixtures during the PCR process. Optically clear caps are available for qPCR.
PCR strip tubes: PCR strips are a set of several PCR tubes arranged in a single strip. These strips are designed to fit in the PCR blocks of most instruments. Our tube strips come with detached or attached caps depending on your preference. Optically clear caps are available for qPCR.
PCR plates: Novas Bio PCR plates come in a 96-well or 384-well format and allow for higher throughput applications. Pair these plates with our sealing films for optimal results and repeatability.